Enhance your business infrastructure with our top-notch commercial roofing services in Massachusetts. In this blog post titled "Commercial Roof Installation in Massachusetts: Upgrade Your Business with Our Top-Notch Commercial Services" explores the importance and benefits of professional commercial roof installation in Massachusetts. It emphasizes the significance of professionalism and quality, factors to consider when hiring a contractor, strategies for durability in the Massachusetts climate, and the long-term investment value for businesses. The post aims to provide businesses in Massachusetts with valuable insights to enhance their infrastructure through expert commercial roof installation.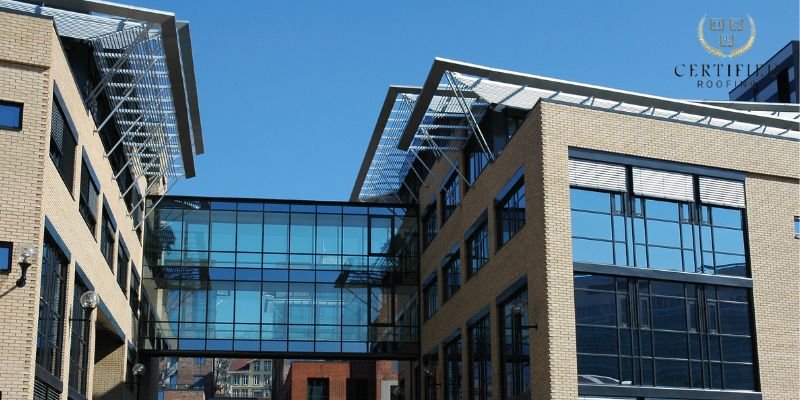 Expert Commercial Roof Installation in Massachusetts: Enhancing Your Business Infrastructure
Looking to upgrade your business infrastructure? One crucial aspect to consider is your commercial roof. A well-designed and properly installed roof not only protects your property but also enhances its overall aesthetic appeal. If you're searching for top-notch commercial roof installation services in Massachusetts, look no further! Expert professionals in Massachusetts specialize in commercial roof installation, ensuring exceptional craftsmanship and long-lasting results. They understand the unique challenges that Massachusetts weather can pose and tailor their installation methods to withstand the harshest elements. With expert commercial roof installation services, you can expect:
Professional Assessment: Skilled technicians conduct a thorough assessment of your business property to determine the ideal roofing solution. They take into account factors such as building structure, materials, and environmental conditions, providing you with personalized recommendations.
High-Quality Materials: Premium materials from trusted suppliers are sourced, ensuring the durability and longevity of your commercial roof. A wide selection of roofing types, such as metal, EPDM, TPO, and more, allows you to choose the perfect fit for your business needs.
Efficient Installation: The team follows industry best practices and employs the latest techniques to ensure a seamless installation process. They prioritize efficiency, minimizing disruption to your daily operations while delivering exceptional results within the agreed-upon timeframe.
Compliance and Safety: Safety is prioritized during every step of the installation process. Technicians are trained in the latest safety protocols and adhere to local building codes and regulations. The aim is to provide you with a commercial roof that not only looks great but also meets or exceeds industry standards.
Investing in an expert commercial roof installation is a smart choice for any business owner in Massachusetts. A well-installed roof not only protects your assets but also enhances the value and visual appeal of your property. Don't compromise on quality when it comes to your business infrastructure.
'; echo $embedCode; ?>
The Importance of Professionalism and Quality in Commercial Roof Installation in Massachusetts
When it comes to commercial roof installation in Massachusetts, there are two essential elements that should never be compromised: professionalism and quality. These factors play a crucial role in ensuring the longevity, durability, and overall success of any commercial roofing project. In this post, we will delve into the significance of professionalism and quality in commercial roof installation and how they contribute to a superior outcome.
Professionalism: The Foundation of Trust and Reliability
Professionalism sets the tone for any commercial roof installation project. It encompasses a range of attributes, such as expertise, integrity, and adherence to industry standards. Hiring a professional roofing team instills confidence in clients, as they know they are working with individuals who understand the intricacies of the trade and are committed to delivering exceptional results. A professional roofing team will possess the necessary licenses, certifications, and insurance, ensuring compliance with local regulations and safeguarding the client's interests. Moreover, professionalism is reflected in transparent communication, accurate project estimations, and meeting deadlines. By maintaining professionalism throughout the project, clients can rest assured that their commercial roof installation is in capable hands.
Quality: The Cornerstone of Longevity and Performance
When it comes to commercial roof installation, quality is non-negotiable. A well-installed, high-quality roof is a long-term investment that protects the building, its contents, and its occupants from the harsh New England elements. A quality roof is durable, weather-resistant, and able to withstand heavy snow, rain, and strong winds. By prioritizing quality in commercial roof installation, businesses in Massachusetts can mitigate potential risks and prevent costly repairs or premature replacements. A professional roofing team utilizes top-grade materials, advanced techniques, and industry best practices to ensure the highest level of craftsmanship. This attention to detail not only extends the lifespan of the roof but also enhances its performance and energy efficiency, resulting in long-term cost savings for the building owner. In the realm of commercial roof installation, professionalism, and quality are the pillars that distinguish a successful project from a mediocre one. Whether it's a new construction or a roof replacement, investing in professionalism guarantees a smooth and reliable process, while prioritizing quality ensures the longevity and performance of the roof. 
The Benefits of Professional Commercial Roof Installation in Massachusetts
When considering a commercial roof installation in Massachusetts, the advantages of hiring a professional contractor in Massachusetts cannot be overstated. Here, the key benefits of professional commercial roof installation services will be highlighted:
Expertise and Experience: Professional contractors possess in-depth knowledge, expertise, and experience in commercial roofing. The intricacies of various roofing systems, materials, and techniques are well understood by these experts. They can evaluate specific requirements and suggest suitable roofing solutions for commercial properties.
Quality Workmanship: Top-notch workmanship can be expected when professionals handle commercial roof installation. Industry standards and best practices are meticulously followed, ensuring proper installation that meets safety requirements. Attention to detail and the use of high-quality materials result in a durable and long-lasting roof.
Time and Cost Efficiency: Professional roof installation saves time and money in the long run. Contractors work efficiently, equipped with the necessary tools and equipment, enabling timely completion of installation projects. By avoiding costly mistakes and ensuring proper installation, the need for future roof repairs and roof replacements is minimized.
Enhanced Safety: Roof installation involves working at heights and handling heavy materials, which can be hazardous without proper training and safety measures. Safety is prioritized by professional contractors, reducing the risk of accidents or injuries during installation. Adherence to safety protocols, utilization of appropriate personal protective equipment, and compliance with local building codes ensure a safe working environment.
Warranty and Support: Reputable commercial roof installation companies often provide warranties for their work. Consequently
Factors to Consider When Hiring a Commercial Roof Installation Contractor in Massachusetts
When it comes to commercial roof installation in Massachusetts, selecting the right contractor is paramount to ensuring a successful project. Here are key factors that should be carefully considered:
Expertise and Experience: Look for a roofing contractor in Massachusetts with a proven track record in commercial roof installations. Consider their experience in handling different roofing systems in Massachusetts and their ability to deliver high-quality work.
Licensing and Insurance: Ensure that the contractor is licensed and properly insured. A licensed contractor demonstrates compliance with industry standards, while insurance coverage protects you from liability in case of accidents or property damage.
Reputation and Reviews: Check online reviews and testimonials from previous clients. A reputable contractor in Massachusetts will have positive feedback and a solid reputation within the industry. Consider their reliability, professionalism, and customer satisfaction ratings.
Portfolio and References: Request a portfolio of past commercial roof installation projects to assess the contractor's capabilities. Additionally, ask for references and reach out to their previous clients to gather firsthand information about their experience working with the contractor.
Cost and Project Timeline: Obtain detailed quotes from multiple contractors and compare their pricing structures. While cost is a crucial factor, be cautious of extremely low bids that could indicate subpar workmanship. Additionally, discuss the project timeline and ensure that the contractor can accommodate your desired schedule.
By considering these 5 key factors, you can make an informed decision when hiring a commercial roof installation contractor in Massachusetts. Remember to prioritize expertise, licensing, reputation, and cost-effectiveness to ensure a successful roofing project.
Maximizing Durability: Commercial Roof Installation Strategies for the Massachusetts Climate
When it comes to commercial roof installation in the Massachusetts climate, durability becomes a significant consideration. The region's harsh weather conditions and unpredictable temperature variations necessitate the implementation of effective strategies to ensure maximum longevity for commercial roofs. This post highlights some proactive steps of commercial oof installation that can be taken to optimize the durability of commercial roofs in the Massachusetts climate.
Choose the Right Materials: Opt for high-quality roofing materials that are specifically designed to withstand the Massachusetts climate. Consider durable options like metal roofing or modified bitumen, which offer excellent resistance to extreme temperatures, heavy rainfall, and snow accumulation.
Proper Insulation: Adequate insulation is essential for commercial roofs, as it helps regulate temperature and prevents energy loss. By minimizing heat transfer, insulation not only increases the roof's durability but also improves energy efficiency, reducing heating and cooling costs.
Regular Maintenance: Implement a proactive roof maintenance plan to catch any issues before they escalate. Schedule regular roof inspections to identify potential problems such as leaks, damaged flashing, or loose shingles. Prompt repairs can prevent minor issues from turning into major headaches.
Drainage System Optimization: Massachusetts experiences heavy rainfall, making an efficient drainage system crucial for commercial roofs. Ensure that gutters, downspouts, and drains are clear from debris and properly functioning. Adequate water flow prevents water accumulation, which can cause roof damage and leaks.
Professional Installation: Find a reputable roofing contractor with experience in Massachusetts climate is paramount. A skilled professional will understand the specific challenges posed by the region's weather patterns and install the roof using industry best practices. This ensures the roof's longevity and reduces the risk of premature deterioration.
Long-Term Investment: Commercial Roof Installation for Massachusetts Businesses
Commercial roof installation offers numerous benefits, including protection against adverse weather conditions and the prevention of potential damage and expensive repairs. A sturdy roof shields your assets, enhances property value, and provides peace of mind, allowing business owners to focus on their core operations. Massachusetts experiences varying weather patterns throughout the year, including heavy snowfall, rainstorms, and intense sunlight. Without a robust roof in place, these elements can cause significant harm, resulting in water leaks, structural issues, and potential health hazards for employees and customers. To safeguard your business and future, it is essential to invest in professional commercial roof installation. Engaging experienced commercial roofing contractors in Massachusetts ensures access to top-quality materials, expert craftsmanship, and warranties that guarantee long-lasting protection. Remember, your roof is an investment that offers long-term rewards. Beyond safety and security, it enhances the visual appeal of your business, creating a welcoming environment for customers and potential investors. Stand out from competitors and leave a lasting impression with a well-maintained and professionally installed roof.
Hire Us for Your Commercial Roof Installation Needs in Massachusetts
Founded in 2008, Certified Roofing is the leading contractor for commercial roof installation. When considering your commercial roof installation needs, here's why our commercial roofing services in Massachusetts should be at the top of your list:
Free Consultations and In-Depth Inspections: We offer thorough consultations and inspections to gain a comprehensive understanding of your roofing needs. This allows us to provide tailored solutions that meet your specific requirements.
Same-Day Estimates and Pricing Options: We understand the importance of budget considerations. That's why we provide same-day estimates and flexible pricing options, ensuring our services align with your financial plans.
America's Fastest-Growing Commercial Roofing Company: Our reputation speaks for itself. As the fastest-growing commercial roofing company in America, we are recognized for our commitment to quality and exceptional service.
Best-in-Class Customer Service: At Certified Roofing, our customers come first. We pride ourselves on delivering best-in-class customer service throughout the entire roofing process. Our dedicated team is always ready to assist you with any questions or concerns.
Product Knowledge and Expertise: We invest significant time and resources into training our employees on our product offerings. This means you can trust our team to recommend and use only the best quality materials for your commercial roof installation.
On-Site Project Management: Every project we undertake is carefully overseen by our experienced office and field supervisors. This hands-on approach ensures that your installation is executed with the utmost precision, resulting in superior quality and clean job sites.
Best Warranties in the Industry: Thanks to our Manufacturer Certifications and status, we can offer full leak-free system warranties from some of the biggest and most trusted commercial roofing manufacturers like Carlisle, Firestone, Genflex, Versico, Mulehide, Apoc, and Gaco Roo.
Not only roof installation, but we also offer different commercial roofing services in Massachusetts such as:
When it comes to commercial roof installation, trust the experts at Certified Roofing. Contact us today to schedule your free consultation and experience our exceptional service firsthand!