With over 17 years of roofing experience in Newton, Certified Roofing is the top choice for commercial roofing Newton MA. Our team has approved applicator status with some of the industry's most trusted names such as GAF Materials Corporation, Conklin Roofing Systems, Versico, and more! When you choose us to service your project, you can be sure that you're entrusting experienced professionals who are reliable and highly capable. If you're seeking a dependable, honest, and competent Roofing Contractor to take on your assignments – look no further! With our broad portfolio of contracting services, we have the expertise to tackle a wide range of projects. In short: when it comes to roofing contractors in this area – we lead the pack with quality work that never falls short!
A Leading Expert to Accompany Your Large-Scale Commercial Roofing Newton MA Project
The professionals at Certified Roofing have come together to create something extraordinary. Our proficient team is prepared to manage any roof system, from small repair and maintenance tasks up to large-scale new and reroof projects, with highly specialized expertise in commercial roofing Newton MA low-slope roofs as well as historical renovations. We take pride in being able to deliver incomparable roofing experiences while imparting invaluable knowledge along the way. Certified Roofing offers a customer service experience that is second to none, with an established and reliable process for every project we take on.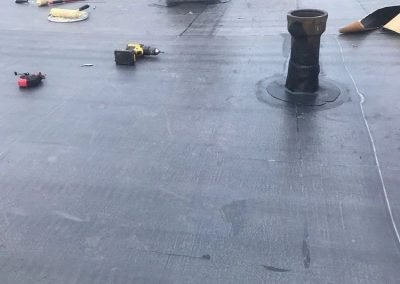 Choose Experience
Don't gamble with your commercial roofing Newton MA project – instead, ensure you're receiving the highest quality of service from Certified Roofing. Our experienced and skilled roofers are at-the-ready to inspect every aspect of your roof in Newton MA and perform complete repairs as needed for a lasting solution. We don't cut corners or rush our work; we follow through on each step until it meets our superior standards. When you choose us for your commercial repairs, rest easy knowing that we'll take care of everything!
Exceed Your Expectations
Are you looking for a trusted and reliable roofing company that surpasses your expectations? Certified Roofing is the Newton commercial roofing Newton MA company to call! Our experienced team provides superior workmanship, cost-effective services, and outstanding customer service. We offer an array of repairs across both residential and commercial roofing Newton MA – guaranteeing satisfaction every time. Experience what it's like to receive exceptional quality by choosing us today!
Trust Certified Roofing For All Your Commercial Roofing Wellesley MA Needs!
Certified Roofing is the industry leader in commercial roofing Wellesley MA, having earned a stellar reputation for owning and operating all its local branches, never compromising on safety standards, delivering top-notch customer service every day of the year, and always providing focused attention to each project. From emergency repair work to full replacements or regular maintenance jobs – whatever your budget or timeline needs may be – Certified Roofing has got you covered! For any commercial roofing Wellesley MA repairs that require expertise, dedication, and professionalism call us today. Certified Roofing possesses the skills and capabilities to exceed your expectations.
#1 Commercial Roofing in Needham MA
While doing repairs on a damaged roof may seem the more sensible choice in terms of labor, material, and time (cost), there comes a point where performing repairs rather than replacing them altogether can become detrimental. Therefore, when this occurs you must be sure to engage a highly-reputable contractor that is capable of honestly assessing your current commercial roofing system and offering you viable repair as well as re-roofing solutions for both the short term and long run. Let Certified Roofing be your commercial roofing specialist. Our team is standing by to get your project underway, beginning with a thorough inspection of the condition of your roof. Allow us to provide you with an accurate assessment so that you can make informed decisions about what's best for your business.
Comprehensive Commercial Roofing Services
At Certified Roofing, you will find an extensive selection of commercial roofing Newton MA systems for your commercial property. Our trained professionals are acquainted with each client's type and state of their current roof in order to make the most appropriate recommendation that caters to their unique needs. That way, clients can rest assured they have chosen the ideal solution for them! Certified Roofing stands out from the competition with its experience, knowledge, and expertise in a variety of techniques – including commercial roof repair, replacement services for new construction projects, general roofing maintenance tasks, and even sustainable "green" solutions. Rest assured that our team will deliver superior results on time and within your budget!
Roof Repair
At our firm, we assist clients in proactively taking care of all their properties. This comprehensive system includes a variety of services such as general repair, service for specialized roofing needs, restoration, maintenance, and even replacement. Preventive maintenance can extend the life expectancy of your roof from 30 to 100 percent! So if you are looking for vast savings on costs related to repairs and replacements then opt-in for regular inspections that can help address any minor issues without delay. On top of that, our extensive network of industry-wide partnerships enables the Certified Roofing team to provide a complete list of specialty services for any roofing requirement. This includes emergency commercial roof repair, maintenance, and service, plus leak detection and repair. Our clients should expect their contracted commercial roofing Newton MA contractors to have all facets accounted for!
Roof Replacement
Certified Roofing has the expertise and skill to conduct a full commercial roofing Newton MA replacement for any building whose current one is past repairable. While it's essential to do regular maintenance on your roof throughout its lifespan, at some point, even the most reliable roofs have reached their peak usage time. If that happens, our team is here to provide guidance regarding how best to proceed with the situation.