Welcome to Certified Roofing, your leading provider of commercial roofing services in Worcester MA. Our dedication to quality and customer satisfaction sets us apart, ensuring your industrial and commercial roofing needs are met with the utmost professionalism and expertise. Whether you're seeking roof replacement, repair, installation, maintenance, or restoration, we have you covered with a range of options tailored to suit your property's specific demands.
Free Commercial Roofing Consultation in Worcester MA: Dial (508) 794-7650 Now!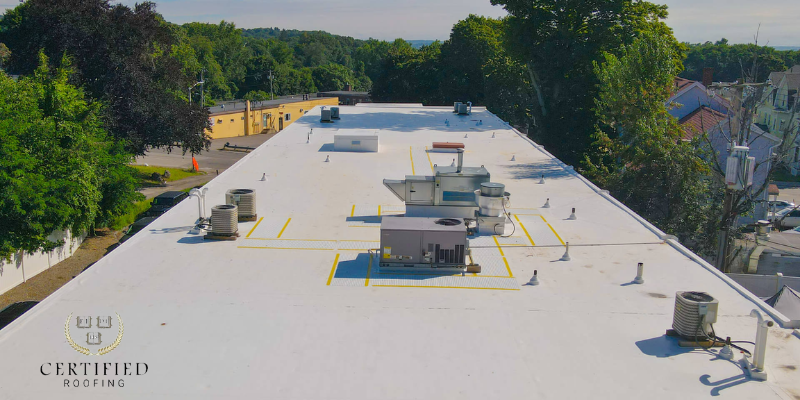 A sturdy roof over your commercial property doesn't just protect your assets; it's an investment into your business's future. In Worcester MA, our brutal winters and unpredictable weather can take a toll on commercial roofs. When the time comes for roof replacement, you need a team that's reliable, experienced, and ready to provide the highest quality service. Certified Roofing is that team. Our skilled technicians assess your current roofing situation, suggest the best materials and techniques, and execute the commercial roof replacement with minimal disruption to your business operations. We ensure your new roof is robust, durable, and well-suited to the New England climate.
Leaks, insulation problems, or storm damage? Certified Roofing has the solution. Our commercial roof repair services are designed to address issues promptly and efficiently, preventing further damage and extending the life of your roof. We understand the urgency of roof repairs to maintain the integrity of your commercial space and are committed to restoring your roof's condition with quality workmanship.
If your project involves new construction or adding a structure to your commercial property, trust Certified Roofing for professional commercial roof installation. Our team works closely with architects and contractors to ensure that your new roof is a perfect fit for your building's design and functional requirements. We adhere to strict installation standards to guarantee a roof that stands the test of time.
'; echo $embedCode; ?>
Regular maintenance is vital to extending the life of your commercial roof. Our comprehensive maintenance programs are designed to identify potential issues before they become costly repairs. From routine inspections to preventative measures, Certified Roofing's commercial roof maintenance services ensure your roof remains in peak condition, protecting your business all year round.
Not every aging roof needs to be replaced. Sometimes, a roof can be restored to its former glory with the right touch. Our commercial roof restoration services include thorough cleaning, repair, and the application of protective coatings that enhance your roof's durability and appearance, potentially saving you time and money.
Understanding the variety of roofing materials is crucial in making an informed decision for your property. Certified Roofing specializes in a multitude of commercial roof types, including:
TPO (Thermoplastic Polyolefin) Roofing
TPO roofing is a popular choice for its energy efficiency and ease of maintenance. Our TPO roofing solutions offer durability and high performance, making them ideal for businesses looking to reduce their carbon footprint.
EPDM (Ethylene Propylene Diene Monomer) Roofing
Known for its longevity and versatility, EPDM is a rubber roofing membrane that withstands extreme weather conditions, perfect for Worcester's varied climate.
PVC (Polyvinyl Chloride) Roofing
PVC roofing is resistant to fire, chemicals, and wind, making it an excellent option for industrial environments that demand robust protection.
Built-Up Roofing (BUR)
The traditional BUR system, comprising multiple layers of bitumen and reinforcing fabrics, offers a time-tested solution with proven waterproofing abilities.
Modified Bitumen Roofing
Combining asphalt with modifiers, this roofing type provides enhanced flexibility and durability, suited to buildings experiencing thermal movement or requiring improved tensile strength.
Metal Roofing
Metal roofing is not only aesthetically pleasing but also highly resilient and energy-efficient, often used for its longevity and minimal maintenance needs.
Green Roofing
For businesses looking to incorporate sustainable practices, green roofing offers environmental benefits and can help reduce heating and cooling costs.
Silicone Roof Coating
Extend your roof's lifespan with a silicone coating that provides weatherproofing and can reduce energy expenses by reflecting UV rays.
Metal Deck Roofing
Our metal deck roofing systems are designed for strength, withstanding heavy loads and providing exceptional durability.
Corrugated Metal Roofing
Corrugated metal roofing is a reliable and economical choice, offering a high degree of protection against the elements.
How to Choose the Best Industrial and Commercial Roofing Company in Worcester MA?
Selecting the premier commercial roofing contractor in Worcester MA is essential for ensuring the longevity and performance of your roofing investment. When searching for the best commercial roofing services in Worcester MA, consider these critical factors: Seek out a contractor with a solid background in commercial roofing, supported by a history of successful projects within Worcester MA. Delve into the contractor's reputation by examining customer feedback, testimonials, and ratings, which will offer insight into their reliability and quality of service. Make sure the contractor is fully licensed to operate in Worcester MA and has comprehensive insurance coverage, protecting you against any liability and workers' compensation claims. The choice of contractor should also be one who shows a clear understanding and expertise in the various roofing systems that might be right for your property. Inquire about the specifics of material and labor warranties, as well as the availability and details of maintenance services after installation. Regular maintenance and inspections are crucial for any top-tier commercial roofing service in Worcester MA. Having a good understanding of the common types of commercial roofing systems available in Worcester MA will help you make an informed choice for your property. Considering factors like experience, reputation, and specialized expertise, you can confidently select the most qualified commercial roofing contractor in Worcester MA. This decision ensures a durable and reliable roof capable of withstanding Worcester's diverse weather. Trust experienced professionals to protect your commercial premises and provide long-term peace of mind. For those looking for the most reliable commercial roofing in Worcester MA, Certified Roofing is the name you can trust for your roofing needs. Here's why Certified Roofing stands out as the go-to choice: Established in 2008, Certified Roofing has built a reputation in the commercial roofing industry. The company's long-standing presence speaks volumes about its expertise and commitment to delivering quality work. Certified Roofing provides free consultations, offering expert advice tailored to your unique roofing needs. Their detailed roof inspections ensure a thorough understanding of your commercial roofing requirements, leaving no aspect unchecked. Efficiency and transparency are at the forefront of Certified Roofing's services. The company is committed to providing quick estimates, helping you make timely and informed decisions about your roofing needs. Certified Roofing is recognized for its rapid growth as a commercial roofing specialist, setting the standard for customer service excellence. The company is known for offering some of the best warranties in the industry, backed by reputable manufacturers such as Carlisle, Firestone, Genflex, Versico, Mulehide, Apoc, and Gaco Western. These strong warranties offer peace of mind, ensuring your investment is well-protected. Certified Roofing's array of services in Worcester MA includes comprehensive maintenance, restoration, repair, and replacement solutions for commercial roofs. Being recognized as America's Fastest-Growing Commercial Roofing Company, Certified Roofing isn't just another name in the industry; it's a company whose commitment to excellence has been rigorously evaluated and endorsed by the Better Business Bureau (BBB). This accolade stand as a testament to our steadfast adherence to business practices that build trust, advertise honestly, tell the truth, remain transparent, honor promises, and embody integrity in all of our business dealings. Furthermore, the confidence we've cultivated among our clientele is reflected in the glowing five-star reviews we've garnered across multiple platforms, including Google, Facebook, and Yelp. These reviews echo the satisfaction and trust our customers have in our services and the positive experiences they've had partnering with us. Each review is a story of a project handled with professionalism, timeliness, and meticulous attention to detail, illustrating why Certified Roofing is the preeminent choice for commercial roofing services in Worcester MA.
Catering to Businesses Across the State
At Certified Roofing, our reach extends well beyond the heart of Worcester MA, as we proudly cater to businesses across the state. Understanding the unique roofing needs of each locality, we've tailored our services to meet the specific demands of various Massachusetts climates and architectural styles.
Arlington: Tailored roofing that complements both historic charm and modern infrastructure.
Belmont: Precision and durability that enhance the town's suburban landscape.
Boston: Cutting-edge solutions for a city that demands excellence and durability.
Brookline: Quality roofing that upholds the area's historical integrity.
Bridgewater: Trusted services for a growing community, ensuring robust protection.
Cambridge: Innovative roofing for a blend of traditional and contemporary structures.
Dover: Picturesque solutions that align with serene settings.
Lexington & Lincoln: Expertise that meets the aesthetic and environmental needs of historic towns.
Lowell: Varied roofing options to match the city's industrial and commercial dynamism.
Medfield, Needham, Newton: Long-lasting roofs for thriving commercial districts.
Somerville: Eclectic solutions for a mix of old and new commercial spaces.
Watertown & Wellesley: High standards of roofing excellence for diverse business communities.
Winchester: Unparalleled service to match the refined commercial spaces.
Worcester: Homegrown roofing excellence, mirroring the city's industrious spirit.
Get a Free Estimate!
Ready to embark on your next commercial roofing project? Contact us today to schedule a consultation and receive a free, no-obligation estimate. Our knowledgeable team is here to provide you with a detailed evaluation and a competitive quote.
FAQs about Industrial and Commercial Roofing Services in Worcester MA
How long does a commercial roof replacement typically take? The time it takes to complete a commercial roof replacement in Worcester MA can vary. Factors that influence the timeline include the size of the roof, prevailing weather conditions, and the type of roofing material being installed. On average, a replacement could be completed within several days to a couple of weeks. How often should I schedule commercial roof maintenance? In Worcester MA, it's wise to schedule commercial roof maintenance at least bi-annually. Ideally, inspections should occur before the harsh New England winter sets in and again in the spring to address any issues from winter weather. Regular maintenance can help avert expensive repairs and extend the life of your roof. Can I install solar panels on my commercial roof? Yes, installing solar panels on commercial roofs is quite common in Worcester MA, particularly on flat roofs which provide an excellent platform for solar installation. Not only can solar panels reduce energy costs, but they also contribute to your business's sustainability efforts. What is the expected lifespan of a commercial roof? The longevity of a commercial roof in Worcester MA depends on the roofing material, installation quality, and regular maintenance. Most commercial roofs last between 20 to 40 years. Materials like PVC, TPO, and EPDM have different life expectancies, which can be influenced by the harsh Northeast weather. How do I know if my commercial roof needs restoration or replacement? Determining whether your Worcester MA commercial roof needs restoration or a full replacement requires a professional inspection. Signs that you might need a replacement include widespread damage, persistent leaks, or if your roof is nearing the end of its expected lifespan. Restoration may be an option if the damage is minimal and the roof is still within its serviceable years.