Most Trusted Residential Roofing in Newton MA
With years of experience in Newton MA, Certified Roofing takes pride in guaranteeing your safety and protecting your home with the highest quality roof materials and most experienced craftsmanship. As a local roofing company, our familiarity with this region allows us to provide you with optimal service that will endure any weather conditions. Additionally, at Certified Roofing, we understand what our customers expect from us — reliability and professionalism. Rest assured that when it comes to residential Roofing in Newton MA, we are here for you! When selecting a roofing contractor, you have numerous options available to pick from. We believe we should be your top choice and here is why: Our team offers personalized service with the owner always on-site; certifications/warranties include being an Owens Corning Preferred Contractor, GAF Certified, and IKO Preferred Contractor; we have over 17 years of experience in providing roofing services throughout Massachusetts state; plus our workmanship is guaranteed!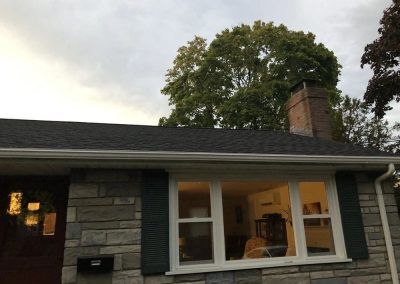 Residential Roofing Newton MA – Reliable and Honest Work
If you are seeking a roofing company that is head and shoulders above the rest, then look no further than our Newton crew of expert roofers. They have the skills necessary to take your older roof and replace it both rapidly, as well as safely. Beyond this, we also ensure extensive cleanup once the job is complete; leaving your home spotless— if not even better looking – than when we arrived! Professional roof replacement in Newton MA can easily be what transforms an average project into one that will make you proud for years to come. So don't hesitate any longer – let Certified roofing fulfill your residential roofing Newton MA dreams.
Experienced Residential Roofing Wellesley MA – Professional At Its Best
Are you a Wellesley resident in search of an outstanding residential roofing Wellesley MA contractor that won't break the bank? Certified Roofing is here to make your life easier! Our exceptional services, including inspection and replacement, are available for both residential and commercial needs. There's no need to scour through piles of hay when finding a reliable company—Certified Roofing is your one-stop source for unbeatable service at an affordable price. Get ready to experience gratifying results with our certified professionals today!
Experts for the Job
We understand that quality work always takes precedence. Every job is tackled with meticulous attention to detail and safety protocols in order to provide optimal results; no matter the complexity or size of your project. We are fully equipped with top-of-the-line tools and materials so that you can be sure you're getting only superior service from us every time. Our wealth of knowledge paired with extensive experience ensures impeccable craftsmanship each step along the way. Are you living in Wellesley MA and searching for a dependable roofing company? Look no further! We at Certified Roofing are here to assist with all of your roof projects, big or small. You can count on us to provide quality service that exceeds your expectations.
Certified Roofing Also Offers Residential Roofing in Needham MA – Not Just Any Roofing Company
With our unrivaled levels of customer satisfaction, cost-effective rates, free estimates with no strings attached and a 100% customer satisfaction guarantee that supports every service we provide – it's easy to see why we are the leading choice for property owners in the region. As licensed and insured general contractors with access to only the most cutting-edge products available today – you can trust us for all your roofing needs from roof maintenance to residential roofing in Needham MA installation. Our local roofing business has got you covered! Come experience what makes us stand out among our competition with multiple premium services on offer. Contact us now if you're ready to get started – we look forward to hearing from you soon!